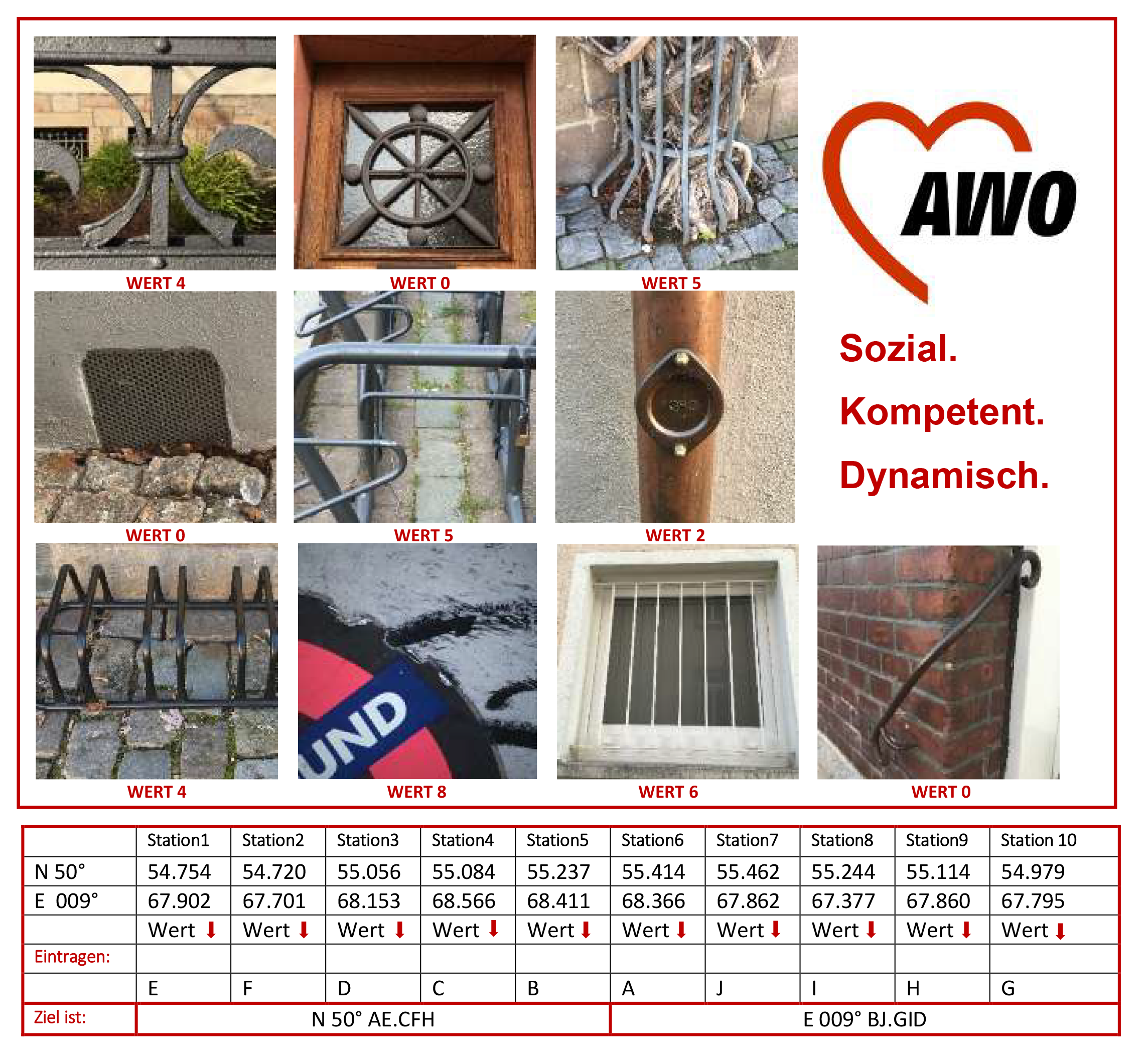 Learn more about AWO's fields of activities over the years by taking a tour through the city of Fulda. For our 75th anniversary we have organised a Geocaching tour with prices to win!
Geocaching is not only a scavenger hunt for children. Meanwhile it is offered as a Team building event or as an idea at a stag night and festivals of all kinds. The idea behind it is to have physical movement outside, solve challenging tasks and thereby discover new things. We have organised an anniversary tour for the friends of Geocaching under:  www.geocaching.com
To enable those who do not want to have to deal with the App to also take part, the instructions have been adapted so that one can reach the goal using Google Maps. You get the solution word at the destination!
You will find a description of the different stations on the Homepage and you can print out the puzzle page here: Cachingtour Rätsel Cachingtour Rätsel
The '75th Anniversary of AWO in Fulda' can be easily be done as a walk and is therefore suitable for families. You need about 90 minutes on foot and 60 minutes by bike for the tour. If preferred, one can also take the tour by car but it will be half as much fun!The idea is to look for the stations one by one and find the part of the picture that is required for the solution. To get the final coordinates for the hiding place one has to fill in the values of the pictures in the required solution tables.
Whoever does not have the Geocaching-App that leads them from station to station can easily participate using a Smart phone: just give in the coordinates in Google Maps instead of an address, like this: 50.54754, 9.67902 (an example of the first station). That way everyone will be able to  find the way!
In addition to the Logbook you will also find  a note with the solution word in the container hidden at the destination. Send this to buero-aktiv@awo-fulda.de together with your name and postal address so that we can send you your gift voucher. Please do not participate more than once!
The lottery wheel will be turned monthly from July till October  and after that the winners will be informed. In the last drawing all the entries will be put in the lottery wheel again and so you have two chances of winning!
There are many great prices to win- participating will be worth it!
Please note: Our instructions have been translated into different languages so that as many people as possible can participate. Click on top of the Homepage for the appropriate symbol.
Here you will find a pdf file with descriptions of the stations: